Heavy calcium carbonate referred to as heavy calcium, is the use of high-quality calcite as raw material processing from white powder, its main ingredients are CaCO3, heavy calcium whiteness, good purity, hue soft and stable chemical composition and so on. So it is a good filler commonly used in industry.It is usually used as a filler, but also widely used in the daily chemical industry, as a filler to increase the volume of products, reduce production costs. For rubber, rubber can increase the volume, improve the processing of rubber, from semi-reinforcing or reinforcing effect, and can adjust the hardness of rubber.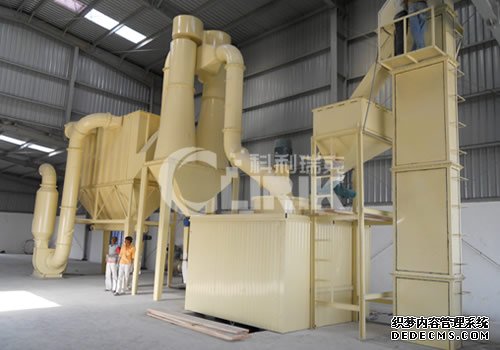 How does the heavy calcium
powder grinder machine
works
When the powder grinder machine work, the host motor through the reducer to drive the spindle and turntable rotation, the edge of the roller drive dozens of roller rolling in the grinding ring raceway.The large pieces of material are crushed into small particles by the hammer crusher and fed into the storage bin of the hoisting machine. After passing the vibrating feeder and the inclined feeding pipe, the material is uniformly sent to the upper part of the turntable.Material scattered around the circumference in the role of centrifugal force,and fell into the grinding ring raceway was ring roller impact, rolling, grinding, after three-layer loop into a powder,high pressure air machine inhalation of external air, and the crushed material into the separator.The impeller presses the rough material down and grinds in the separator, and the fine powder meets the required airflow into the cyclone and is discharged from the lower part of the discharge valve. The airflow with a small amount of fine dust passes through the pulse dust collector, after purification discharge through the fan and muffler.
If you are interested in
powder grinder machine,
please leave your need on our website. Our professional technicians will send you specifications and quotes.Thank you.