Vertical mill
equipment can be used to grind manganese carbonate ore powder. What manufacturers provide such vertical mill equipment? Clirik, a professional manufacturer of mills, is a professional manufacturer of mill equipment. For the production needs of manganese carbonate ore powder, coal powder, non-metallic ore, thermal power plants, cement plants and other industries, Clirik supplies vertical mill equipment and selection Configuration plan to help projects create value.
What are the characteristics of

vertical mills

?
Vertical mill
equipment is a mill equipment that meets the requirements of energy-saving and emission-reduction production. It is also a pulverizer that Clirik has focused on successfully researching the ore processing market. It has the advantages of crushing, drying, grinding, grading and conveying. The design structure is scientific and reasonable, and the working principle is scientific, which can be applied to the production needs of grinding power, metallurgy, cement, chemical industry, non-metallic ore and other industries.
The vertical mill equipment has a strong adaptability to materials, and can be applied to the grinding of lime powder, slag fine powder, manganese ore, gypsum, coal mines, barite, calcite and other mineral powders for high-humidity materials, dry materials, and difficult-to-grind Both materials and easy-to-grind materials are suitable. The fineness of the finished product can be adjusted, intelligent operation, low comprehensive investment cost, and small floor area are the mills that help manganese carbonate ore powder to create greater value.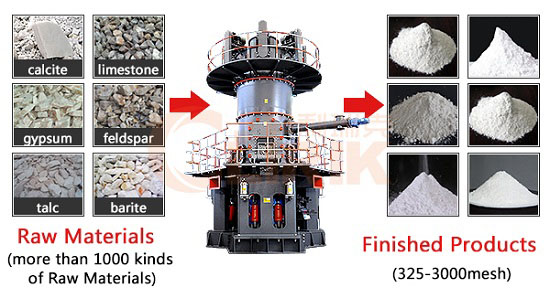 Clirik ore mill-

CLUM vertical mill-

milling equipment
[Into the grinding material particles]: 0-50mm
[Middle diameter of grinding disc]: 800-5600mm
[Moisture into the grinding material]: <15%
[Product moisture]: ≤1-6%
[Production Capacity]: 5-700t / h
What is the

vertical milling

process of manganese carbonate ore powder?
What is the process flow of the
vertical mill
? The entire equipment system is mainly composed of the host, feeder, classifier, blower, piping device, storage hopper, electronic control system, collection system, etc. The process can include crushing, grinding, classifying and collecting powder.
The raw ore is crushed with a crusher, and the material enters the powder and rolls. Under the pressure of the grinding roller, the material is crushed by crushing, grinding and shearing. The powdered material is blown up by high-speed airflow. After being blown back to the grinding disc for re-milling, the suspended materials can also be dried, and the qualified powder will be collected by the dust collection system to become the finished product.
Grinding manganese carbonate ore powder, the vertical mill manufacturer Clirik scientifically matches the selection and configuration plan, supplies the scientific
calcium carbonate vertical mill
production line price, helps the project to increase production and efficiency, and create value. Welcome to call the hotline for consultation, contact information:
008613917147829
.